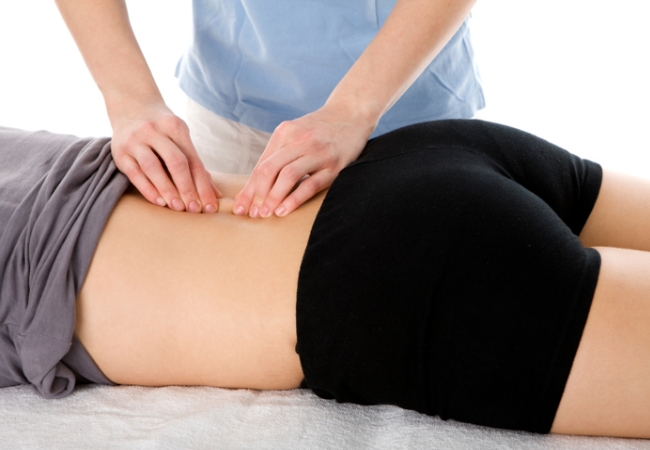 Spinal decompression may help treat low back pain, but this popular treatment isn't a sure thing. Advertising for spinal decompression targets people with degenerative disc disease, bulging discs, herniated discs, or spinal stenosis.
What is spinal decompression?
Spinal decompression is a form of mechanical spinal traction, which refers to the separation of the bones, joints, and discs of the back.
It is theorized that this separation relieves pressure on the nerves in the back and helps decrease pain, and thus, improve function.
Many spinal decompression systems are operated by the use of a computer, allowing the health care provider to adjust the amount of traction force, the angle of traction provided, or the amount of time the traction force is applied. Common trade names of spinal decompression devices are the VAX-D System, the Spinal Aid System, and the DRX-9000 System, among others.
Some spinal decompression units require that you lie on your stomach while treatment is rendered; others have you lie on your back.
Are there risks associated with spinal decompression?
A review of the published data for the use of spinal decompression reveals very little risk associated with treatment. One study reported on a patient who developed severe pain while on the unit. A follow-up MRI of the spine revealed that this patient's lumbar herniated disc had increased in size.
The patient subsequently had a lumbar surgery and it was reported that the patient recovered fully. Other studies report some increase in pain for a few participants.
Does spinal decompression help low back pain?
The main theory behind spinal decompression is that providing traction to the compressed structures in the spine helps relieve pressure and pain.
So traction must help low back pain, right? Well…
A study published in the 2001 issue of Physical Therapy Journal (PTJ) evaluated various forms of treatment for acute (symptoms for less than 4 weeks), sub-acute (4-12 weeks) and chronic (more than 12 weeks) low back pain. The published evidence available for the use of traction for low back pain received a grade of "C" (no benefit demonstrated).
Claims have also been made that spinal decompression creates negative pressure in the discs of the spine, which helps to pull bulging discs back into place. A published study reporting on three patients concludes that spinal decompression did lower the pressure in the discs while using decompression. This is a small study, however, and no cause and effect conclusion about spinal decompression and low back pain can be made.
However, more studies have been conducted since the ones mentioned above. More observational studies using larger trial groups are finding the spinal decompression may help with some of the symptoms of low back pain, specifically the radicular leg pain.
And, there are still smaller studies finding positive outcomes.
Simply put, there is limited scientific evidence that spinal decompression can help your low back pain. Does that mean that it does not work? Not entirely. It just means that the current level of research is not sufficient to draw positive cause/effect conclusions for the use of spinal decompression. There may be other more affordable options for you to consider when faced with treating your low back pain.
What does help low back pain?
While many treatments are available for your low back pain, the scientific data indicates that maintaining normal activity is a good treatment (grade of "A" — benefit demonstrated — in the 2001 PTJ review) for acute low back pain. Exercises for your low back also received a grade of "A" for sub-acute and chronic low back pain.
The great thing about exercise is that it is a low-cost, easily implemented treatment. Your physical therapist can teach you how to improve your posture and implement the right exercise program for your specific condition to treat your low back pain.