Prevent Injuries and be Healthy with Post-Surgical Rehabilitation
We all have heard the saying "prevention is the key to good health" well that saying is valid when it comes surgeries. Most of us tend to shrug off the mild symptoms thinking I will take some medication and it will go away.
It may go away with pills or reduce symptoms but why not look for long term fix instead of short term. New Age Physical Therapy can help find these fixes. They can teach you techniques and ways to prevent injuries and promote a healthy lifestyle.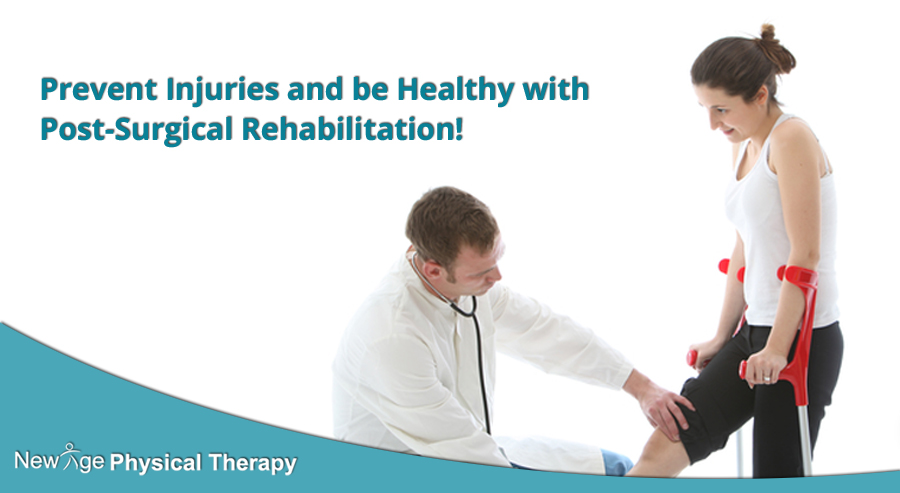 But no matter how much we try to prevent these things sometimes it just does not work in our favor. If surgery is necessary and you want to get ahead of the game then talk to your doctor and see if you can get it done. Most patients after surgery require physical therapy to get back to normal activities.
POST-OPERATIVE PHYSICAL THERAPY 
In several orthopedic cases, having quality physical therapy from experienced compassionate professionals can certainly help quicken the recovery process.
These are some examples of surgeries after which patient needs Physical Therapy:
Total Joint replacements
Spinal Surgeries (Laminectomy, discectomy, Spinal Fusion)
Ligament Tears( Shoulder Dislocation/Separation; Elbow-Tommy John; Knee-ACL, PCL, MCL, and LCL)
Rotator Cuff Repair
Temopomandibular Debridement
Arthroscopy Surgeries (Shoulder- Sub acromial Decompression or Laberal Repair; Knee-Meniscus Repair; Ankle Debridement)
Bunionectomy, ankle foot reconstruction surgeries
POST-SURGICAL REHABILITATION 
As your surgery approaches, for most people getting through the surgery is the only thing that is constantly crossing your mind. But like everything else in life, surgery comes with a little bit of extra work.
Your physical therapist can have the most skillful techniques, they might even be miracle workers but without proper post-surgical rehabilitation, their work can become meaningless.
At New Age Physical Therapy Bayside NY, the Physical Therapist strives to fulfill your needs as well as your wants for a full recovery. Knowing that they are working with specific limitations, they focus on improving joint stiffness, range of motion, muscle weakness as well as reducing pain and swelling to meet your goals.
Every member of our staff will work their best to get to know you as an individual as well as your needs and wants. They are all here to listen to your questions and answer them to best of their knowledge.
Read more: