Physical Therapy for Hamstring Injuries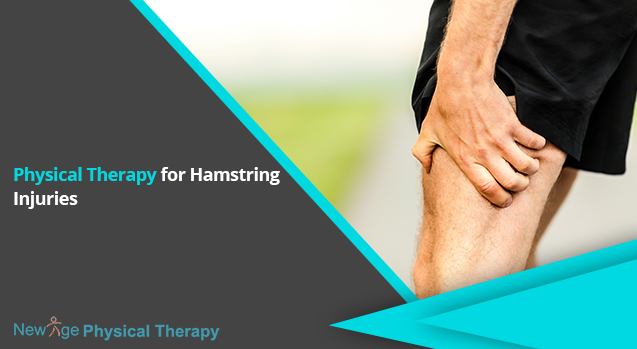 What are Hamstring Injuries? 
There are three hamstring muscles that connect the pelvis to the leg: semitendinosus, semimembranosus, and biceps femoris. These muscles are responsible for straightening the hip and bending the knee.
A hamstring injury can occur when the muscles are being stretched out excessively. This often occurs during high-speed running with sudden starts or changes in direction. Other factors may include sprinting, hurdling, kicking, or heavy lifting.
People with prior hamstring strains are prone to recurring symptoms. Hamstring weakness, increasing age, muscle tightness, inadequate warmup before exercising, and overworking are all risk factors for injury.
How Can a Physical Therapist Help? 
If patients are experiencing pain/discomfort, he/she should avoid aggravating activities like walking or working out. It's important to not overstress the area before symptoms exacerbate. A therapist may advise you to ice at home 3 to 4 times a day to bring down the inflammation.
A physical therapist of Physical Therapy New York, NY will work with the patient to design an individualized treatment plan based on the patient's injury, pain, and goals. Each treatment plan may include manual therapy, range of motion exercises, strengthening exercises, and functional training that are safe and appropriate for recovery.
In severe cases where surgery is inevitable, physical therapy can provide consistent postoperative care. Hamstring injuries are quite challenging to overcome because of their high incidence rate, slow rate of healing, and persistent symptoms.
In fact, subsequent injuries from returning to a sport or physical activity are more severe than the original. Because of this, it is essential for patients to comply to a program.
Can This Injury or Condition be Prevented? 
Here are Some Precautions Patients can Take: 
– Warmup before performing demanding activities.
– Gradually increase the frequency and intensity of an activity.
– Perform exercises to strengthen hamstring muscles.
– Listen to the body! Stretch and use ice after a workout if needed.
Physical therapy is one of the most common treatments for hamstring strains, helping to One such physical therapy technique, known as deep stripping massage, can be used in combination with other commonly used treatment.
The impacts of deep stripping massage effects in an improved hamstring length in less than three minutes, increasing flexibility, but do not affect the durability of the muscle.
The use of kinesiology strip, a type of elastic adhesive, has also shown to be effective at recovering muscle flexibility and decrease the chance of pain.
This method is essentially equal to human skin in both thickness and flexibility and is generally used by professionals for managing injuries and the different types of physical ailments.
To give yourself the best chance of stopping hamstring injuries in the first place, it is a great approach to heat up and stretch before any type of physical activity. Improve the strength of your exercise slowly, as going too hard too fast improves the possibilities of muscle injury exponentially.
Stop exercising as soon as you feel you may have hurt yourself.  Finally, concentrate on strengthen exercises to help increase your muscle strength. Healing hamstring damages or the majority of muscle pains for that thing can be much harder than preventing them in the first place.
By holding to the suggestions and recommendations outlined in this article, you can be sure that you are working to the best of your strength while maintaining your safety in mind.
–  Ultrasound
Ultrasound is a long heating therapy that can help increase circulation and extensibility during the injured muscles of your hamstring. Your PT may use this treatment although analysis shows that the use of healing ultrasound in musculoskeletal treatments may not allow the benefit that was once considered.
–  Massage
Massaging the injured muscle can help promote injury mass movement.
–  Electrical Stimulation
Electrical stimulation may be used to achieve various goals during your hamstring rehab. Your PT may use e-stim to improve manage your pain, reduce injury or improve the way your hamstring muscle contracts.
–  Kinesiology Taping
Some physical therapists use kinesiology taping methods to help enhance the way your hamstring muscle functions. It can also be used to reduce swelling and beating around your hamstring muscles. There is insufficient research about the use of K-tape, so consider the use of this modality with your therapist.
–  Gait Training
After difficult hamstring strains, you may be needed to walk with crutches while things are healing. Your PT should inform you how to walk well and how to progress from using an assistive device to walking normally.-
–  Ice
Ice may be utilized during the critical stage of pain to manage swelling and to reduce pain that you are feeling.
–  Heat 
Your physical therapist may use moistened heat packs to help relax your hamstring muscles and to increase muscle extensibility before stretching.
The most significant treatment your therapist can offer you is a healing activity. Your PT will guide special activities for you to do in the clinic, and a home activity plan will possible be appointed for you to do regularly. This assists you get power of your hamstring strain rehab and sets you in the driver's seat with your responsibility.
Exercises for a Hamstring Strain may Include:
–  Hamstring Stretches
Static and dynamic hamstring stretching exercises can help to enhance the way your hamstring functions. Remember, the damaged tissue creates injury tissue as it is healing, and one of the best ways to improve this tissue is with the action that happens with stretching. While stretching, you should assume a stretch or tear in the injury site, but it should respond to your baseline responding within moments of holding the stretch.
–  Lower Extremity Strengthening Workouts 
After a hamstring strain, your PT may guide strengthening exercises for your hamstrings and the surrounding muscles. Exercises should begin slow and be painless. As your injury improves, you can progress to more intense strengthening exercises.
– Hip and Core Strengthening Exercises
Analysis shows that having your bones and essence tissues strong can be an efficient way to return to normal activity after a hamstring strain. Excellent bone growing and effective inside strengthening may be ordered through your hamstring rehab.
Agility tools including jumping and dancing. As your rehab improves, your PT may have you interlace in extra superior activity tools such as hopping and jumping. Learning to jump and land properly can help protect your hamstrings (and other lower extremity joints and muscles) from injury as you return to active participation in sports.
–  Stability and Proprioception Activities
Struggling to manage suitable balance and lower extremity awareness may be a part of your hamstring strain rehab. This can help assure that your tissues are running properly to retain your bones, knees, and ankles in the right position while walking, jogging, and dancing.
See More:
Physical Therapy for Hamstring Injuries