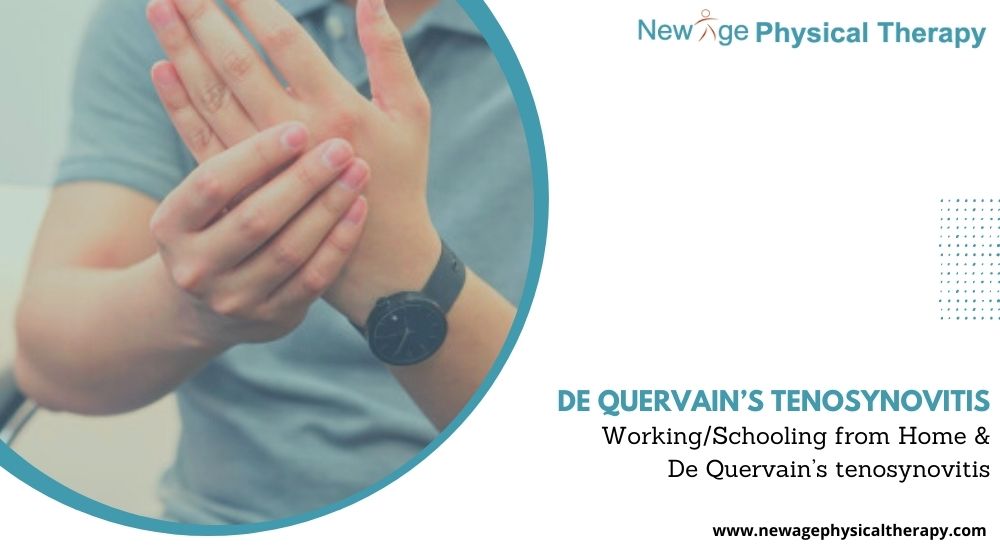 Working/Schooling from Home and De Quervain's Tenosynovitis
Since COVID-19, there has been an increase in computer use…
De Quervain's tenosynovitis, also known as radial styloid tenosynovitis is pretty common in those working in front of the computer
The common Misconception with Computer Use and Carpal Tunnel Syndrome
Studies have found that computer use is not linked with CTS. However, it doesn't mean that it does not cause disorders of the arm. Most likely you would have developed De Quervain's tenosynovitis OR you would already have CTS but have been exacerbated recently in addition to the computer user.
What is Carpal Tunnel Syndrome?
Carpal Tunnel Syndrome is caused by pressure on the median nerve at the base of the palm.
The carpal tunnel is a channel on the palm side of the wrist that protects the nerve and the tendons that bend your fingers. Added pressure to the nerve can cause pain and weakness in your wrist and hand.
Inflammation and swelling of the surrounding wrist's tendons can contribute to the pressure on the median nerve which can lead to CTS.
Extreme wrist positions, as well as a lot of finger use, especially with a lot of force or vibration, can all contribute to CTS.
Symptoms of Carpal Tunnel Syndrome
It usually starts with burning, tingling, or numbness in the palm and fingers which are often noticeable at night. As it progresses, the symptoms are noticeable in the day and often worse when holding items.
The weakness of the hand and more constant numbness if the pressure on the nerve continues. You may see that you lose something unexpectedly or have a weakness in your grip.
What is De Quervain's Tenosynovitis?
It's a condition affecting the tendons on the thumb side of your wrist. It hurts to lift any pots of pan, doing any heavy household chores. Any exercise that relies on constant hand or wrist movement can make it more immoral.
Symptoms
Pain and swelling near the base of the thumb. Difficulty moving the thumb or wrist while making grasping or pinching motion
What can I do When Using the Computer?
Keep your wrist in on neutral position when working with a keyboard or mouse.
Setting up your keyboard so that your elbows are bent at 90 degrees and forearms parallel to the floor will be the ideal position. That goes the same with the mouse as well.
Swelling
You can also try using ice packs to reduce the swelling/inflammation in the area as well as trying to give your hand a rest when you don't need to use the computer.
Physical Therapy
Visit Physical Therapy New York, NY and a physical therapist will evaluate you and will determine if you have De Quervain's tenosynovitis. Your treatment will involve various stretches and exercises you can do at the clinic as well as at home.